This product was viewed 5 times within last hour
Real time
58
visitor right now!
Order in the next to get it by
Wed, Oct 04, 2023
This is a state of the art cream-based product designed to give those who don't want to use harsh chemicals, dyes, developers, bleaches, and rinses that may not show up once it is applied.
The Color Pop covers dark and or light hair. This product washes out in 1 wash session. You may also reapply color daily to boost the color to your liking or change every day without fear or color damage. Wash it out for work the next day or mix the colors to get the desired funky unique color you'd like.
Does not flake off like chalk nor does it make your hair hard and or dry like other products. Have the color without the chemicals. CHEMICAL FREE! No harm...just electric colors! Ideal for Military women, children, males, and females.

Ingredients: 
Cera alba (beeswax), Petro Jelly, and Color pigment.
Customer Reviews
Write a Review
Ask a Question
I love these colors!!! They were so easy to use! The colors were vibrant and washed out super easily!!!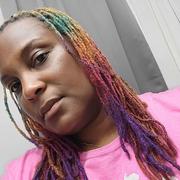 Use promocode MYSTEEK10 to get 10% discount!